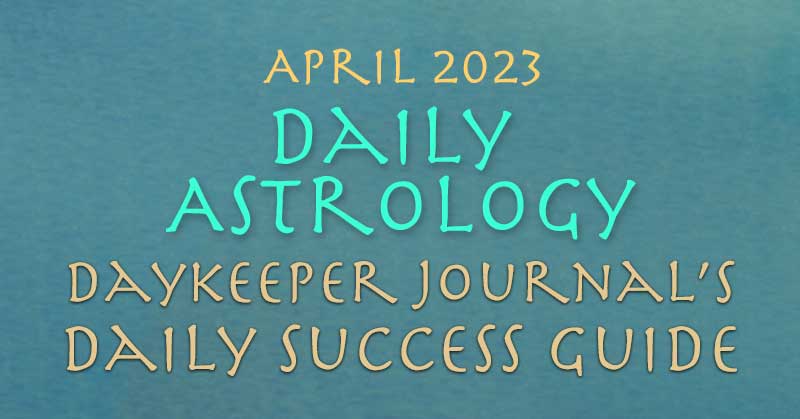 Free Daily Astrological Forecast, April 1–30, 2023
Daykeeper's free daily astrological forecast is updated each Monday.
Premium subscribers can receive the entire forecast before the month begins, along with the detailed monthly Travel Advisory, complete General Astrological Influences, and handy Void of Course Moon charts too.
Listings are in Pacific Time. Here's a handy, accessible time zone converter for your location (opens in a new window).
Unless otherwise noted, all interpretations in this astrological forecast are based on a natural chart, using the beginning of Aries as the ascendant.
---
Saturday, April 1
Today is April Fool's Day! We can have fun and/or get things done relating to people, romance, an event, or recreation. Today's pioneering numerology of 1 lends excitement.
Moon in playful Leo connects with sweet Venus and jolly Jupiter, a charming mix that makes for fun and opulent situations and interactions. We can:
Enjoy a play, an art exhibit or a gourmet picnic
Make a regal show of affection or positive recognition
Share a generous gift
Woo, or wow, our love object
Throw a party
Propose marriage
Hold a business, cultural or social event
Set something in motion related to people, art or romance
Use these dynamic, sociable energies before 11:03 pm (2:03 am ET), when Moon goes VOC.
Affirmation:
Divine substance takes form as rich, joyful connections, here and now.
Sunday, April 2
The first part of the day is rather nerdy and uptight, while afternoon favors independent, practical action.
At 3:57 am (6:57 ET), Moon enters serious Virgo, making tense aspects to stern Saturn and pushy Pluto. We may wish to sleep in, journal or tackle a tough chore like cleaning the oven, decluttering the garage, or giving ourselves a pedicure.
Connections with others are apt to be cold or stressful. Today's influences favor doing something practical and independent, like research or finishing some work on our own.
Reticence fades at 12:04 pm (3:04 ET), when serious Moon sextiles restless Mars. The red planet in Cancer is ruled by Moon, bringing opportunities in the following areas: improving our living space, renting or selling real estate, solving a problem, or taking heroic action to help a family member in crisis or need.
Evening favors cleaning, study, and devotional activities.
Affirmation:
This person (name of who you're praying for) is not alone or without support. Spirit is with her (him), guiding, protecting and supporting her in every way now.
Monday, April 3
Today we have valuable influences that can pivot us in a positive direction.
First, at 9:22 am (12:22 ET), our communication style becomes less jumpy and more sensual as Mercury the messenger leaves restless Aries and enters Taurus, sign of manifestation.
In addition, Moon in diligent Virgo can be even more productive than usual. This earthy Moon can help us ground the creative potential triggered by her transits today to Sun, innovative Uranus and expansive Jupiter. Virgo is great at getting organized, and with her help we can take concrete steps on a new project, a new business endeavor, or a new kind of outreach, and really make headway.
These influences also favor creative self-expression, a breakthrough in research of some kind, and—with mental Mercury also in square to intense Pluto—powerful healing. But, avoid distraction and steer clear of power struggles.
A late trine from Moon to Venus is great for a heart-to-heart talk, cuddling and anything else that develops.
Affirmation:
Love is coming to me, and I accept it now.
Tuesday, April 4
If you have something urgent to do, try tackling it early, while Moon is still in practical Virgo and before she goes VOC at 6:50 am (9:50 ET). She'll be VOC for several hours, during which time we can't be sure of the results of our actions and connections. But we can focus on Virgo areas like healing, devotional activities or altruistic service.
At 2:51 pm (5:51 ET), Luna enters socially adept Libra, where she trines intense Pluto, increasing courage, and decreasing patience with superficial connections. It's a good time to go deep: fight for or research something involving justice, rework a negotiation, make love, participate in couples therapy, or attend a 12-step meeting.
We can also rework our beliefs around relationships and justice, or—with lunar contacts to mental Mercury and executive Saturn—reorganize papers or a work project.
Affirmation:
I am the power that visualizes and brings forth prosperity, here and now.
Wednesday, April 5
Strengthen key connections! The Full Moon in Libra exact tonight at 9:34 pm (12:34 am ET), spotlights relationships, bringing balance to the "me first" energy of Sun and Jupiter in Aries.
These relationships and this portal are particularly important in the light of the approaching Solar Eclipse in Aries, which can be a game-changer. Now, Mercury sextile Saturn brings opportunities of lasting benefit in communications. This is the time to focus on ties that matter, to reach out and to nurture them. The Saturn harmony brings staying power and can even favor celebrating a marriage or a handfasting ceremony.
Libra is about love, socializing, and efforts involving negotiation, justice and finance. But it can also be a bit laid back. To really use today's energies, we must move out of our comfort zone and make an assertive effort to further business or personal communications.
We can also organize files and documents, take care of bureaucracy, write copy, edit, design an ad, poster or PR flier.
Affirmation:
Angels of love, please direct me to value and strengthen my true relationships now.
Thursday, April 6
Still on the portal of last night's Full Moon, this morning's energies are worth rising early for. With Luna in socially adept Libra and today's fortunate numerology of 6, our interactions are blessed with charm and fortune that facilitate smooth creation and execution of plans. Just how early do we have to rise? Before 5:43 am (8:43 ET), when Moon goes VOC on an opposition to expansive Jupiter. Or we can act on these influences late tonight.
Moon remains VOC for the rest of the day, making a minor aspect to Venus that favors enjoying beauty, whether in nature, a nice restaurant or garden or by taking in an art exhibit. Or we can read a romance novel, take in a sweet film or cuddle.
Loving Venus approaches a sextile with romantic Neptune; dreams of kisses, creative work and abundance can come through. Watch for opportunities and act on them again after 8:34 pm (12:34 am ET), when Moon enters brave Scorpio. Then we can go to therapy, heal our emotions, make a tough decision, declutter, or get hot and steamy with our love object.
Affirmation:
I am irresistibly attractive to my highest good, which is drawn to me and appears, here and now.
Friday, April 7
Venus, planet of charm and prosperity, perfects her sextile to dreamy Neptune. Doors can open and, with Moon in trine to constructive Saturn, the organized initiatives we take this morning can produce lasting results.
Our easiest interpersonal connections are those we make before 10:53 am (1:53 pm ET), when Moon's opposition to mental Mercury can cause confusion. However, it also fuels compassion and creativity. With Moon in deep Scorpio and Mercury in abundant Taurus, our prosperity affirmations are packed with power, and we can research our financial options.
At 11:42 am (2:42 pm ET), Moon trines coruler, bold Mars. This uncomfortable aspect calls for tact, as feelings might easily get hurt. This trine combines with a Mercury-Mars sextile that fuels assertiveness and honesty. We can make direct communication, take care of bureaucracy or something we've been postponing, or edit a sales pitch, argument, or legal defense.
The Venus-Neptune sextile softens the rougher edges, and these combined masculine and feminine influences can produce a snake-charmer effect. A production, promotion, presentation or sales pitch can be absolutely hypnotic.
Avoid substance abuse and extreme sports. Also favored are inner activities like visualization, prayer and meditation.
Affirmation:
In any communication and through any contact, all I encounter is infinite good.
Saturday, April 8
Still on the portal of Mercury the messenger's sextile to direct Mars, early morning can be great for bold, assertive communications. This aspect is courageous, as is Moon in Scorpio.
Today's numerology of 8 supports consolidating professional and financial benefits. That said, people connections go best before 6:56 am (9:56 ET), when Moon makes an opposition to independent Uranus, fueling potential arrogance. Should we knock on doors and call someone before sunrise? Not necessarily, unless they're in an appropriate time zone. But we can send emails and messages, post on social media, or launch a promotion.
The rest of the day is best for independent activities like research, decluttering, decorating Easter eggs, or reviewing and beautifying our work. Also favored are inner activities like visualization, connecting with angels, and spiritual healing.
Affirmation:
Guardian Angel, please empower me to say what I feel and to request what I wish for, now and always.
Sunday, April 9
Happy Easter!
Moon is VOC in Scorpio until 5:57 am (8:57 ET), when she enters jovial Sag, making morning good for people connections. We want to be selective about these, as an hour later Luna sextiles Pluto the powerful. This triggers opportunities for connecting intimately, engaging in activism and emotional healing, expressing our feelings with power, and—if we go to a family or group Easter event—having a Plan B.
From midday on, Moon's tensions to bossy Saturn and pushy Mars dampen the party spirit. We can focus on serious, independent activities like studying philosophy, reading classic dark fiction (Dostoevsky, Dickens, Shelley, or Bronte), catching up on the situation in Iran, or purging our file cabinet. Or we could take the edge off by hanging out in the garden, meditating on forgiveness, or watching funny movies. Save extreme sports or adventures and a potentially irritating encounter for another day.
Affirmation:
Angels go before me, filling my path and supporting my divine opportunities, now and always.
Monday, April 10
Yesterday's tensions have melted as we move into a cheerful zone of Moon in Sag with trines to Sun and Jupiter, both in confident Aries.
Today's numerology of 1 kicks in to support bold action. We can renew our commitment to an independent project, promote a cause, product, brand or service, or move forward on something meaningful. People connections go well, particularly with natives of cardinal signs, or with a coach or someone who inspires, motivates, and empowers us.
If we can steer clear of fatal attractions and focus on building our self-esteem and abundance, an approaching trine from Venus, planet of love and values, to powerhouse Pluto can bring deep renewal.
At 9:47 pm (12:47 am ET), Venus enters loquacious Gemini. With ruler Mercury in pre-retrograde shadow, we can review our relationships, financial agreements and self-dialogue.
Affirmation:
I am an agent of divine action. I feel it, I see it and I act on it in whatever way I can, here and now.
Tuesday, April 11
Today is a special day that deserves special focus, facilitating breakthroughs in relationships, emotional healing, finance, and spiritual experience.
At 3:14 am (6:14 ET), sexy Venus perfects her trine to intense Pluto, firing our desire for romance and intimacy, and deepening our appreciation of wealth—and its role in self-esteem.
Sun joins expansive Jupiter, fueling optimism, confidence, trust and good fortune. Jupiter rules angels, and our winged friends use today's numerology of 11 as a special portal. Through it, they can more easily tap into humans' love energy and use it to lift the planetary vibration.
With Moon in affable Sag, morning is the best time for socializing and romance. Be selective, as Venus-Pluto makes for transformative connections.
At 10:33 am (1:33 ET), Moon enters diligent Capricorn, supporting productivity. At 5:08 pm (8:08 ET), she makes a lovely sextile to ruler Saturn, facilitating practical connections as well as contacts with a boss, teacher, elder or another authority figure. The sextile is also good for taking care of bureaucracy, building or, with Mercury newly into shadow, refurbishing. For that matter, we can focus and move forward on just about anything that we wish to last.
Affirmation:
Infinite intelligence acts continually to support success in my actions and connections, now and always.
Wednesday, April 12
If today's Moon-Mars opposition gets you out of bed early, you might exercise, declutter, or take hot-cold water therapy.
Contacts with others are favored after 6:35 am (9:35 ET), when Moon trines Saturn the builder, fueling our constructive instincts. With Moon in practical Capricorn, this trine is great for reconnecting our discipline, organizing our strategies, putting our space in order, and taking practical action.
The whole day is excellent for tangible progress, particularly if we can take the reins of our situation and apply leadership in business or any situation requiring executive skills. Today's numerology of 3 is ruled by Venus and helps lighten the strong Saturn energy. We can integrate beauty into our work and imbue our connections with warmth.
From 4:24 pm (7:24 ET) on, creativity is stimulated and we can make headway on new trends in business or finance, as Moon trines Uranus in Taurus, sign of abundance.
Affirmation:
I am open to receive all the success that Spirit has for me now.
Thursday, April 13
Today's numerology of 4 relates to Saturn and to building. This is a day to work on our relationships, spiritual goals, and finances. Early contacts from Moon to Jupiter and Neptune, the angel planets, accentuate compassion, expand our imagination and facilitate connection with spirit guides. Meditate, use your mind to heal, reconnect with the dreams you wish to cultivate.
At 2:11 am at (5:11 ET), Moon moves to her Fourth Quarter. We can streamline and triage to focus on what we can get finished during the last week of her cycle.
At 23-24 Capricorn, the Sabian symbol says:
A WOMAN ENTERING A CONVENT. Total commitment to a transcendent goal… Rigid discipline conditions inner freedom. TRANSCENDENT SECURITY.
We can rise early, with the help of Moon in executive Capricorn, get organized, send key emails, publish on social media, and take other practical actions before 7:14 am (10:14 ET), when Moon goes VOC.
At 1:42 pm (4:42 ET), Moon enters Aquarius and half an hour later joins intense Pluto. This transit is great for emotional healing, research, and working on financial growth or a relationship.
At 7:23 pm (10:23 ET), Moon trines Venus. With the planet of love approaching a square to Saturn, it's worth our while to use this harmony: it facilitates emotional comfort, not only to enjoy relationships, but also to work on them.
Affirmation:
Spirit can't be kept from finishing what it starts, and I give thanks for the finished results that are manifesting now.
Friday, April 14
With sweet Venus perfecting a square to strict Saturn, and Moon in independent Aquarius making tense aspects, social intelligence may not be so high today. But we can make tangible progress in something requiring creative thinking that's related to values, business, or money.
We might:
Fight for a cause
Volunteer at a local school, hospital or park
Go on a walk and pick up garbage
Fight for women's rights
Set a limit
Plan a budget
Close a cycle
Contemplate and explore our options
Read the fine print
Throw ourselves into investigative research involving a career change or refinancing a home
Look at how things affect our best interests
Affirmation:
I give thanks for the divine guidance that's showing me what I need to see, here and now.
Saturday, April 15
With today's fortunate numerology of 6 favoring abundance, protection, warmth, and fortune, and with aspects that show us the best times, we can enjoy life and make headway with our projects and intentions.
If you have something to promote, publicize, or campaign for, do it before Moon goes VOC at 8:16 am (11:16 ET), to enjoy the window of opportunity opened by Moon as she makes a sextile to Jupiter, planet of charisma and abundance.
We can enjoy reading, informal socializing (knowing that with Moon VOC things might not go as planned), and researching for fun.
At 3:57 pm (6:57 ET), Moon enters sensitive Pisces, where she favors socializing, connecting with angels and spirit guides, visualizing, or taking in a movie.
At 10:58 (1:58 am ET), Moon joins demanding Saturn, cooling the magic and putting a damper on romance. If we still happen to be up, we can put our journals, visualization materials, and esoteric books in order.
Affirmation:
Goddess Sarasvati, please send your divine support to help me organize and renew my library.
Sunday, April 16
Today could be sexy, with Moon in romantic Pisces connecting with flirty Venus and hot Mars. The combination also favors creative expression and enjoying music or an art exhibit.
Moon's aspect to tough Mars is a trine, yet even in harmony this duo merits caution: it's best to avoid potentially unpleasant or toxic encounters, use care when driving and handling sharp instruments and machinery, and follow your intuition for self-care.
Things get easier and communications go great as of 4:24 pm (7:24 ET), when Moon in sensitive Pisces sextiles loquacious Mercury in fertile Taurus. Our words can ground our dreams through creative writing and disseminating, a romantic connection, business contacts, or a shared outing in nature. Moon's late sextile to Uranus keeps the mind going and favors activities with friends or in finance and activism. This already brilliant influence is strengthened by today's intelligent numerology of 7 supporting a breakthrough in research or study. We can get a decisive piece of information.
Affirmation (to seal a session of positive affirmations):
My words are not just nice ideas, they're divine law in action that has produced finished results, here and now.
Monday, April 17
Intuition is strong and angels are livestreaming as Moon in perceptive Pisces joins ruler Neptune. Yet today's gifts aren't only psychic.
Today's numerology of 8 facilitates consolidation of something we've been working on, and with this strong Pisces Moon, it can be related to spirituality, promotion, art, biology, a proposal, equipment repair, home design, compassion, light beings, or something we've been visualizing for or that requires a strong dose of imagination.
We can also analyze our dreams and consult angels and spirit guides, particularly with a focus on consolidating something tangible, professional or financial.
The day winds down but the stars pump us up. At 6:09 pm (9:09 ET), Moon enters brave Aries and moves to sextile courageous Pluto. We can move on a brave decision we took sometime before or knock on a door of someone who can support our healing or a new life direction.
Affirmation:
I send the Angels of Success before me to open my way.
Tuesday, April 18
Thanks to a sextile from emotional Moon to sweet Venus, the window from morning through midday is great for romance, contacting family, and for people connections in general. Take the initiative and share your message or reach out to significant others.
With Moon in Aries we want to move boldly, yet it's wise to be mindful and patient.
Things may be less comfortable after 3:16 pm (6:16 ET), when Moon squares ruler, pugnacious Mars. After this, independent activities go better than people connections. We can:
Do breathing exercises,
Hug a tree to de-stress,
Go on a walk (step with care),
Clean out the oven, the car, or the garage (try going slow and avoid cuts or a little accident of some kind),
Do armchair activism,
Declutter visualization materials to clear the deck to start something or seed an intention at tomorrow's New Moon Solar Eclipse,
Avoid an unnecessary fight;, contain a bossy outburst.
Affirmation:
Visualizing the best outcomes, I hold a quantum space for them, now and always.
Wednesday, April 19
The inner leader shows up and we can leave our mark, as today's pioneering numerology of 1 enriches the portal of the New Moon Eclipse in Aries, sign of self-reliance. Activating the North Node, it points us in a new direction. We are invited to reaffirm a path of independence and self-mastery, an impulse sparked at last month's Equinox New Moon, also in Aries, sign of beginnings. Now, with Mercury in pre-retrograde storm, what was an impulse becomes an imperative.
The Sabian symbol for this lunation at 29-30 Aries says:
A DUCK POND AND ITS BROOD. The realization of natural boundaries… The mystic may experience flights of imagination and transcendent vision, but… must return to the concrete earth and… [her] task in… [her] social environment. Extensive as the latter may seem, it is still very small compared to the galactic field; it is indeed a duck pond compared to the ocean. But it is there that the substance for concrete action has to be found, and every effective activity has to be focused… Potency has to be substantiated, it has to meet with substance in order to be effective power. Power must accept the principle of FOCALIZATION.
With this lunation in square to Pluto, planet of power, the symbol of the duck and the duck pond seems quite descriptive of this lunation's potential. This is a great day to take audacious action to expand the path of our bliss and, if we work with the public, expand their involvement in that path. Moon joins joyful Jupiter, optimizing our confidence, charm and ability to connect positively with our emotions and with others.
We can also enjoy nature or take a trip, but this day's power of focused action is too promising to waste on mere recreation. The Eclipse is exact at 9:13 pm (12:13 am ET), and its influence will be active for the rest of the month.
At 9:30 pm (12:30 am ET), Moon enters Taurus, sign of her exaltation. At 1:14 am (4:14 ET), Sun enters Taurus, moving us into a more stable mode that's fertile ground for the restlessness of the Aries Eclipse.
Affirmation:
Guardian Angel, please strengthen my divine identity and move me to demonstrate it, now and always.
Thursday, April 20
The Eclipse portal is still strong. Moon and Sun perfect their squares to intense Pluto, making today great for streamlining and releasing what is beyond our area of focus. We can apply this energy in:
Therapy,
Journaling,
Spiritual healing,
Decluttering,
Organizing.
This morning, a sextile from Moon to Saturn supports connections for business or with a teacher or authority figure, organizing work and home, and taking the reins of our life. Moon and Sun in Taurus support the work of gathering what—and, with today's sociable numerology of 2, who—we need, to support the focused action promised by the Aries Eclipse.
Moon makes a late sextile to Mars. If you're up for it tonight, connect with a coach, an agent, a publicist or someone who can keep you on the track of action.
Affirmation:
I affirm and act with focus, and divine substance gathers to support my direction, here and now.
Friday, April 21
Moon makes early conjunctions to Mercury the messenger and brilliant Uranus. We can unfurl our mental gifts and use them to research, gather information, and make connections in support of our Eclipse focus. With Mercury entering full retrograde today, reach for knowledge you sought and connections you initiated sometime previously.
Today's numerology of 3 relates to Venus; we can cultivate beauty as we develop and share our ideas. Moon is exalted in Taurus, making a foundation for lasting results from the actions we take.
This evening, Moon sextiles Neptune, planet of romance and dreams. Follow your intuition and reach out to someone who resonates with your vision or your spirit.
Today, move on what matters. Move with intelligence and, considering the proximity of the recent Eclipse, with a certain caution. But move.
Affirmation:
I don't wait for things to be perfect, I act on my vision in what way I can now.
Saturday, April 22
At 3:11 am (6:11 ET), Moon enters loquacious Gemini and soon thereafter harmonizes with Pluto, an intense aspect that isn't so great for superficial activities, but does support using affirmations, and exerts a positive influence through deep conversation or in some way applying the healing power of our words.
At 12:00 pm (3:00 ET), the energy shifts with a square from Moon to strict Saturn that can be downright grumpy. De-stress by journaling, playing word games, or decluttering email.
Affirmation:
Greater is the power of my vision than the supposed power of the world, and my intention takes tangible form, here and now.
Sunday, April 23
A great day for connections in work or pleasure. Moon in communicative Gemini joins warm Venus. We can share a romantic adventure, take someone to brunch, or show our affection in a new way.
A sextile from verbal Mercury to assertive Mars fuels courageous communication. We can promote our message or fight for a cause. This influence is strengthened by a wee-hour sextile from Moon to confident Jupiter that also facilitates connections with angels and spirit guides.
Affirmation:
The Universe wants my voice, and doors open naturally, here and now.
Monday, April 24
Most of the morning is down time, as from 5:15 am (8:15 ET) Moon is VOC in Gemini, entering Cancer at 11:58 (2:58 ET). In the meantime, we can do something related to words but without a specific goal in mind. We could work on crossword puzzles, read the dictionary or thesaurus, write affirmations, or catch up on chats with friends or siblings.
This afternoon, Moon in Cancer is propitious for birthing something. Sandwiched between yesterday's sextile from Mercury to assertive Mars and tomorrow's sextile from Sun to Saturn the builder, this sensitive, cardinal Moon fuels our intuition for business, sales and related activities for practical progress.
Luna's evening quincunx to Pluto is best used in compassionate expression, healing, or inner work.
Affirmation:
The angels open the way to share the love that I am, now and always.
Tuesday, April 25
Most of the day is great for strengthening key connections; practical ones in the morning and personal ones in the afternoon.
Sun sextiles structured Saturn: we can share our light in something requiring executive skills. Knock on a door you've visited before (whether it opened or not), related to work, learning, government or some other type of concrete manifestation.
At 4:47 pm (7:47 ET), Moon makes a lovely sextile to Mercury. Connections flow easily and our words are well received. It's worth using this opportune energy to fuel a key relationship, whether for business or with family or the public through PR, a social media post, advertisement or by motivating a group. Teaching, research and writing also go well.
Ride and share the waves of harmony before 8:08 pm (11:08 ET), when Moon joins restless Mars. Sweetness morphs into impatience. After this, we do better focusing on ourselves and literally letting the steam off in independent activities like soaking in a tub, scrubbing the stove, washing the patio, or watering the plants. Don't get carried away with something hot or wet that could turn into a debacle, like trying to bathe the cat, boiling 10 lbs. of potatoes or hanging out too long in the hot tub.
Affirmation:
Divine love comes through the best and highest channels, and I accept it now.
Wednesday, April 26
Today's numerology of 8 supports tangible results of cumulative efforts, while Cancer Moon spotlights improvements in real estate, family, business, and our soul path. Luna makes aspects to Jupiter and Neptune, planets of inspiration, beliefs, publicity and angels. Focus on something related to one of these areas, in your own private sphere or to share with a group, audience or through the web.
At 11:30 pm (2:30 am ET), Moon enters dramatic Leo.
Affirmation:
I invite the angels of consolidation to support my full harvest, now and always.
Thursday, April 27
With Moon in radiant Leo, we may feel inspired. Yet this isn't a morning for Leonian spotlights. Moon's tensions to strict Saturn and intense Pluto may be a bit much. Today's numerology of 9 supports forgiveness and selfless generosity expressed in quiet ways, such as making a significant donation to a cause or person we appreciate and participating in a prayer group.
The energy gets easier after 2:20 pm (5:20 ET), when Moon reaches her Second Quarter. We can pause to review our progress on intentions and goals we set at the recent Solar Eclipse in Aries. The ruler of that lunation, assertive Mars, is approaching a sextile to innovative Uranus. Reach out to a forward-thinking group or person, or step forward on an innovative path you've approached before.
Affirmation:
My path is made of divine substance, and infinite is all I can encounter on it now.
Friday, April 28
Moon in Leo fuels the inner artist, while today's numerology of 1 multiplies our confidence and entrepreneurial spirit.
This morning and afternoon, Moon makes tense aspects that spark creativity but may also sharpen the lion's fangs. Independent, creative activities go best. We could:
Beautify our writing, website, or a business presentation.
Take in a museum exhibit or concert for inspiration.
Edit our resume or curriculum.
Declutter, rearrange the furniture, buy a plant or do something else to create a more opulent work space.
People connections go great after 4:42 pm (7:42 ET), when Moon in romantic Leo sextiles flirtatious Venus. Express your warmth and affection, reach out to a key contact, a family member or someone close to your heart. Reignite a flame, go on a fancy date, or send flowers, a card or a message of gratitude.
This sextile also supports PR, expanding your public and, with Mars the promoter closing in on a sextile with electrical Uranus, renewing a market or activating a financial channel related to your new direction.
Affirmation:
Angels and goddesses of success, please direct my promotion and expand my reach, here and now.
Saturday, April 29
At 3:53 am (6:53 ET), Moon goes VOC in Leo. Today's numerology of 11 supports angel connections, and with the Moon in Leo, heart-centered meditation. Optionally we can connect with the child within and just have fun.
At 11:59 am (2:59 pm ET), Moon enters pragmatic Virgo, making a wonderful combination with the Mars-Uranus sextile that perfects this afternoon and supports opportunities for positive change as we apply focused effort to campaign for or promote a political, humanitarian or spiritual cause, a service, or an innovative path in finance. We can find a shortcut and make a breakthrough progress.
Think of a new way of approaching a goal you've been working on and take a step on this path. With this sextile, doors can open quite suddenly. As you forge boldly ahead, be considerate, as this combo can unwittingly step on people's toes and end up coming home with a black eye or an undeservedly bad reputation.
Affirmation:
Infinite love connects me to others, so my relationships flow magically, now and always.
Sunday, April 30
Still on the Mars-Uranus sextile, Moon's harmonies to Sun and Mercury join with today's numerology of 3 to soften the influence and broaden the spectrum of this restless sextile. Like yesterday, doors can spring open. But today, there's a sexy, cheerful atmosphere. Our attitude can be charming and, besides being for goals, the doors can be open for love, PR, or to strengthen an alliance, motivate others, or lift their spirits. The combination is also great for pursuing a project of renovation or redecoration that you started previously.
Affirmation:
I don't have to wait, I am lifted into my true place and my true results, here and now.
---
Get Crystal's new book!
Angels and Goddesses
Manifest Your Desires with Angelic Intelligence
by Crystal Pomeroy
Connect to the Sacred Feminine with Archangels and their Companion Goddesses
Angels are here to help us deepen our hidden powers—from healing, compassion, and transmutation to faith, courage, focus, and manifestation. But these light beings are not alone. Crystal Pomeroy shares their ancient connections to goddesses worldwide. Learn who they are, how they can help, and what you can do to receive their support.